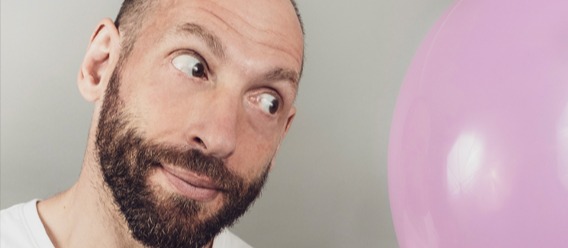 Adam Bloom
One of Britain's most inventive comedians.

He has performed sell-out solo shows at the '96, '97, '98, '99, '01, '04 & '07 Edinburgh Festivals as well as performing a sell-out tour of Britain. He has also sold out theatres at festivals in Melbourne, Sydney, Auckland, Wellington & Cape Town. In July '13,

Adam made his fifth appearance at 'Just For Laughs' in Montreal, including being part of 2004 'Just For Laughs Comedy Tour', playing to 42,000 people in 17 cities across Canada. He has also written three series of 'The Problem with Adam Bloom' for BBC Radio 4.
'Bloom is perhaps the perfect comedian' - The List
"He's been one of my favourite stand-ups for about ten years. Bloom not only has meticulous, brilliant lines, but also an intense and fragile honesty"
Ricky Gervais
"His mission is to convince you that he's the greatest comic ever and he makes a surprisingly good case"

The Scotsman
"Bloom is perhaps the perfect comedian"

The List
"In the premier league of comedy"
The Independent
"He makes me laugh out-loud, I can't wait to see him live"
Sir Ian McKellen

"One of the cleverest and most inventive comics I had ever seen"
Jerry Sadowitz
He's been one of my favourite stand-ups for about ten years. Bloom not only has meticulous, brilliant lines, but also an intense and fragile honesty' Ricky Gervais. "In the premier league of comedy" The Independent
Gallery

Videos