Edinburgh Fringe
APPLICATIONS FOR 2019
We are still accepting some late applications. We have a limited number of spaces still left for Edfringe 2019. Please see below for what was available at midday on 9th April. The following is broken up into 2 different periods of the day, so scroll down.
Where it says 'CHALLENGE' it means that someone has pencilled the slot, but if you are definitely are interested then we will push for an answer.
If you are interested in performing in any of the times, please email and put as subject Edinburgh Application followed by your name or show title. Please put down 3 slots in order of preference.
10am - 2pm start
Big Cave (150) 10.40am
Up The Stairs (80) 10.25am
Fancy Room (80) 10.10am / 11.30am
Up The Road 10.40am
Out the Box (60) 10.00am / 11.20am
Bottle Room (60) 11.30am (1st - 11th only) (CHALLENGE)
The Crypt (80) 10.40am
The Sanctum (60) 10am / 11.20am
7pm onwards start
Little Kirk (50) 11.20pm (1st - 10th) and (18th - 25th)
Big Cave (150) - midnight - weekdays only
Up The Stairs (80) - 1.05am (CHALLENGE)
Up The Road - Midnight
The Tron (75) 1am
Old Foundary (150) - midnight
The Crypt (80) midnight
OLD PAGE CONTENTS AND SOME GENERAL WAFFLE ABOUT US
WE HAVE JUST TAKEN ON ANEW VENUE WITH 2 ROOMS... SO WE ARE STILL ACEPTING NEW APPLICATIONS
Hello Person Looking To Go To Edfringe 2019 (or just nosey person looking around our website)
Just the Tonic had a ridiculously good time at Edfringe 2018. In fact, we usually have a good time, but this year was pretty special. We sold more tickets than ever before, had more bums on seats than ever before. We got a really good fistful of 4 and 5 star reviews for our shows, plus a few award winners and nominations.
With that in mind, we have opened up our booking early for 2019 as we expect an unprecedented demand for space. In 2018 we were fully programmed by end of March. We still have the other 16 rooms (might be adding one more), you can see images of them on the links next to this (look to your right on a desktop, scroll down on a phone).
We also allow for free shows, Pay What You Want shows and the normal ticketed shows. Our spaces are between 50 and 150 capacity.
We still maintain the fun factor of the fringe as well as providing professional support.
Why not apply to be with us and we can take it from there.
We will also add some marvellous propoganda about why it is that you should perform with us and not one of the other 'not so good' places that you might have heard of.
HERE"S WHERE OUR VENUES ARE: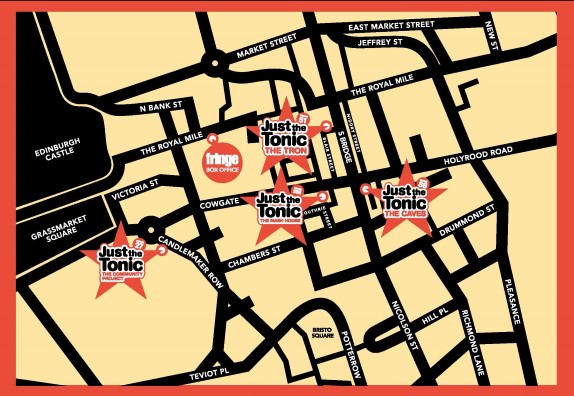 What is Just the Tonic?
It is a unique entertainment experience during the world's largest arts festival. We have 5 venues, with 15 performance spaces: The Caves, situated within a maze of cavernous rooms below Edinburgh's South Bridge, the venue is a tourist attraction in it's own right. Part of the space that we don't use is even part of the legendary Edinburgh Ghost Tours. Winner of The Best Small Venue in The Scottish Events Awards, 2009. We have now added The Tron, a single perfomrance space on Hunter Square, right next to the Royal Mile. In 2014 we took The Community Project on Candlemaker Row with an additional 2 spaces and The Mash House with a further 4 space. We have now added La Belle Angele. All centrally located within the heart of Edinburgh's Old Town.
See this 2018 brochure
CLICK ON THE IMAGE TO SEE OUR BROCHURE