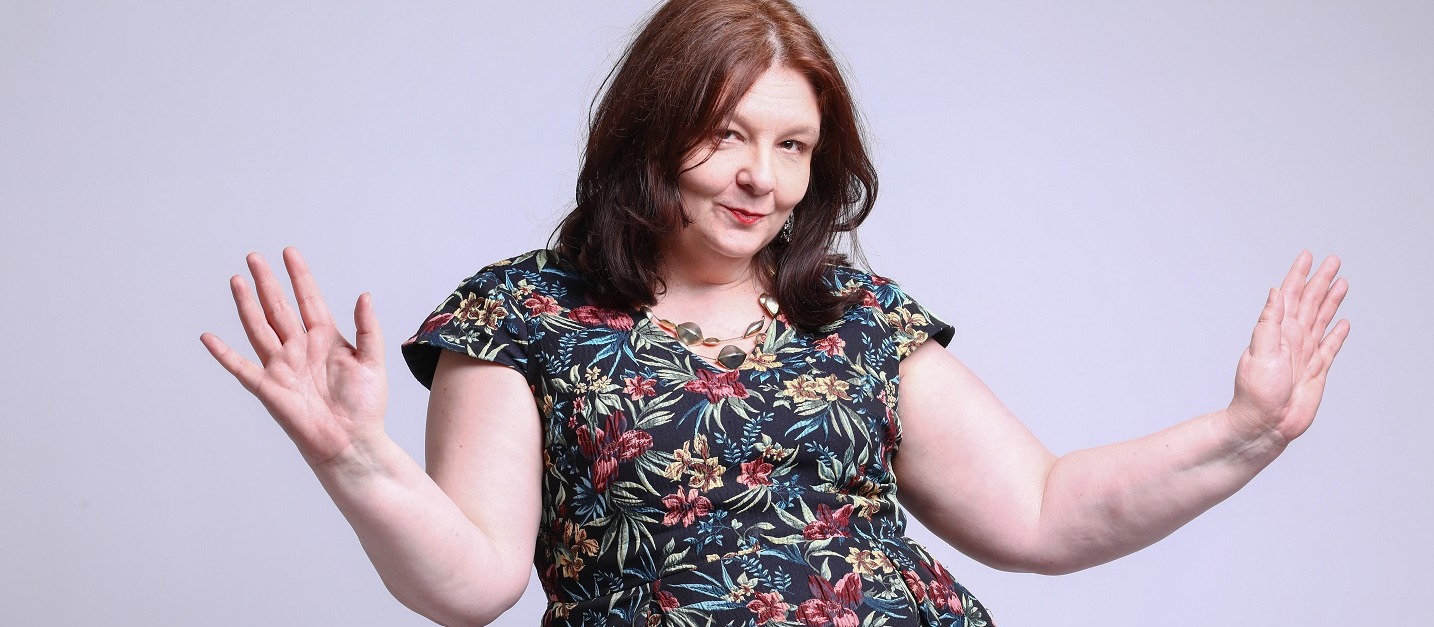 Maureen Younger
Maureen is frank, fast, feisty, sharp and engaging – honest humour with attitude! Maureen works as a stand up comedian and compere at major clubs all around the UK and abroad and has even gigged in German and French. She is also the only comedian on the UK circuit who performs regularly at mainstream, urban, Asian and gay comedy nights.
Other gigs have ranged from being the support act for the entire West End run of The Naked Magicians as well as one of the warm up acts for Puppetry of the Penis to performing at the Barbican alongside Arthur Smith; supporting Shazia Mirza on tour; to being one of the acts at the World Comedy Clash at the Indigo 02 and at the Jamaica vs The World gigs at the Shepherds Bush Empire. (Maureen was representing the latter category!)
Maureen has also performed abroad including Germany, Ireland, Luxemburg, Sweden, Norway, Netherlands, Denmark, Belgium, Austria, Switzerland, Slovakia, Hungary, Czech Republic and Cyprus, appearing several times at the Utrecht Comedy Festival and Cologne Comedy Festival as well as hosting the inaugural Time Out Berlin Presents in January 2012.
Maureen is also one of the co-hosts alongside fellow comedians Jen Brister and Allyson June Smith of the popular podcast, WTB.
If you have been lucky enough to see her perform you will be fully aware of just how funny and engaging this woman is.
(Time Out)
Maureen is one of our regular MC's at Top Secret Comedy. As a promoter, she is a dream to work with on-stage and off-stage, professional, reliable and has never let us down. Our regular audience feedback consistently singles out Maureen as a highlight of any show she performs with us.
(Mark Rothman, Top Secret Comedy Club)
The star of the night was the compere Maureen Younger – she blew the roof off. Totally brilliant. Right from the moment she stepped on the stage, she had the audience in the palm of her hand. Indeed, at the end, members of the audience were queuing up to ask where she is next performing. A tour de force from her and I too can't wait to get her back at the Cheeky Monkey Comedy Club.
(Martin Mullaney, Cheeky Monkey Comedy Club)
warm, funny and instantly likeable.
(Chris Holliday, BBC Radio Manchester, Gaydio)
engaging and funny
(Three Weeks)
Maureen is an outstanding host for any comedy events. She makes any audience feel comfortable whilst being laugh out loud funny!
(Hannah Phillips, Director, ARTRIX)
brilliantly fast-paced …. she is a real hit
(www.spoonfed.co.uk
I certainly thought she was hilarious!
(The Voice)
fantastic resident MC, Maureen Younger, is simply the life blood of the night
(Solihull News)
Maureen Younger is more than compere, more than host, with a natural gift of the gab she's quick off the mark and doesn't miss a trick!
(Lenna, www.gingerbeer.co.uk)
very entertaining… SO funny!
(Amused Moose Soho)
Excellent MC & comedian and a big hit with the Lesbilicious audience.
(Lesbilicious Comedy)
On a strong recommendation from another promoter I booked Maureen unseen to headline my Retort Cabaret show. She didn't let me down, and a previously cool audience immediately warmed to her conversational style. One of the other acts booked her after the show to compere their gig the following week and I too have re-booked her to compere another show in the autumn. I've since seen her at a much larger gig at Birmingham Glee Club and she was equally funny and comfortable on a big stage.
(Brett Rehling, Retort Cabaret Show, Birmingham)
Maureen has done several gigs with 'Great Comedy Nights' and has been superb every time. Always funny, always naughty but nice and there has not been an audience that hasn't loved her. We hope to get her back soon.
(Alan Sellars, Great Comedy Nights)
One of the most naturally talented comedians I have worked with, brilliant timing, warm and funny.
(Sally Holloway)
An absolutely top-notch and clearly highly experienced professional.
(John Fleming, Sponsor Malcolm Hardee Awards)
A week of roaming about the Festival.. but aside from the big names, there's a lot of talent out there. One comedienne in particular has stood head and shoulders talent-wise above the others again and again: Maureen Younger, with her peach of a delivery…
(MGCK)
Maureen Younger….a comic insight that can open up a need to laugh out loud, even if you didn't want to...
(Roland Muldoon, Hackney Empire NATY Competition)
The sharp Maureen Younger's style, meanwhile, works perfectly for this audience – there's maximum interaction, minimum long-winded gags, and her set cracks along with a nice rhythm as a result.
(Sarah Kendell, www.spoonfed.co.uk)
Fast feisty & more than a little dangerous she has a set packed with great one liners yet perhaps her greatest strength is ad-libbing with an audience.
(Jack Milner one of UK's top comedy coaches)
Maureen Younger makes comedy look effortless, not an easy task, she is rare in this world of overpowering male stand ups; a naturally funny post pc feminist with a unique sense of personal observational humour. She is immediate & down to earth; a Ms funny brains.
(Claire Muldoon, Hackney Empire NATY Competition)
Maureen is every compere's dream! She handles her material with such ease, the audience go wherever she leads. An absolute joy. We can't wait to have her back to Laughing At Something Serious!
(Laughing at Something Serious)
The one thing she is? Damned funny that's what. Maureen is a top act, the speed and energy of her delivery grabs the audience and just keeps on relentlessly building the laughs. You'd be a fool not to book her, do it now!
(Stuart Morrison, The Gag Factory)
Comic Irrigation Edinburgh, Maureen Younger is superb. In front of a packed crowd her frank humour, sharp delivery and personable stage presence made her a winning performer at Comic Irrigation during this year's Edinburgh Comedy Festival. She is a "must see" on the comedy circuit!
(Wanda Keenan, Comic Irrigation)
Maureen Younger, whose sure fire delivery hits the mark every time.
(SLICC)
She is a true comedy storm – her energy is wonderful and our audiences in Prague and Brno were instantly in love with her. I am looking forward to bring her back here in future and I recommend Maureen to anybody for sure hit in their comedy nights!
(Dominik – Crown Comedy Club owner and MC)
feisty and entertaining, and certainly owned her time on stage
If you have been lucky enough to see her perform you will be fully aware of just how funny and engaging this woman is. (Time Out)
Gallery

Videos