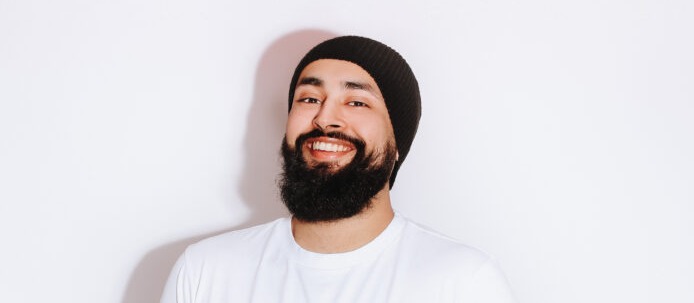 Preet Singh
BBC New Comedy Awards 2021 Shortlist
Semi-Finalist, British Comedian of the Year 2021
Preet Singh is a stand up comedian, writer, podcaster and radio host. First hitting the London circuit in March 2018 he has quickly established himself as a reputable new act. Early achievements include beating multiple, ruthless Gong shows e.g. The Blackout (UptheCreek) and The Honk Show (Moth Club).
From there he has gone on to feature at well established clubs and nights around the UK including multiple spots at Backyard Comedy Club, as well as a run of spots in New York and Berlin. In 2020, during a global pandemic, he founded Laugh-a-Lot Comedy Club.
In addition to stand up, Preet is the host and creator of Samosa Chats, a podcast dedicated to conversations with prominent brown people either tackling serious issues or leading unconventional lives. Following on from the success of Samosa Chats, in 2021 Preet signed with Dash Radio platform, Rukus Avenue Radio. Based in LA, Rukus is regarded as the number one South Asian station in the world with up to 30 million unique listeners a day.
Preet has also been a guest on multiple media outlets speaking on a variety of issues including BBC Radio Berkshire, BBC Radio London and BBC News.
He has recorded two pilot episodes for Comedy Unleashed and featured on Radio 4".
"Bringing a natural stage presence and wit". - Secret London
"Bringing a natural stage presence and wit". - Secret London
Gallery

Videos