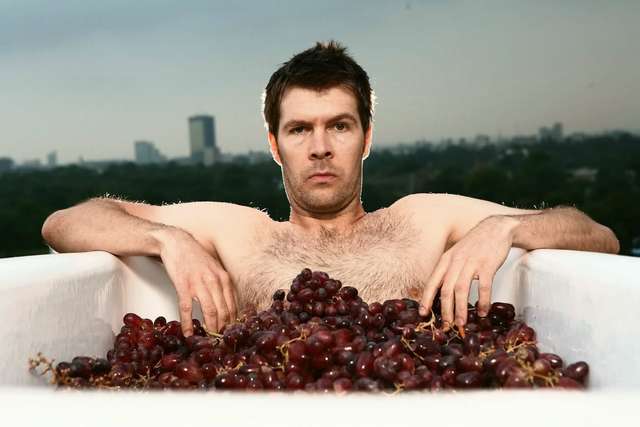 Rhod Gilbert
If you've ever caught a hilarious Welshman having a right old rant on telly, chances are your sides were splitting watching Rhod Gilbert.
Growing up in Carmarthen in deepest, darkest Wales, ranter extraordinaire Rhod Gilbert has flourished as one of the UK's top comedians.
After studying languages at Exeter University, Gilbert worked in market research but quickly decided comedy was where he was meant to make a name for himself.
In 2002 Gilbert became a finalist in the Edinburgh festival's So You Think You're Funny contest and returned the following year to the festival to win the BBC New Comedy Award.
In 2005 his debut solo effort 1984 ensured Gilbert won the Chortle award for 'Best Breakthrough Act' and in 2006 Rhod was placed in The Times'; top 50 comedians list. Not bad for four years work.
Not many people can claim to be the "official voice of Wales"; but at this moment in time Rhod Gilbert is that voice. Joining the ranks of Charlotte Church, Shirley Bassey and Tom Jones, Gilbert fronts the current 'Visit Wales'; tourist campaign.
Rhod's hilarious humour derives from events in his life and everyday annoyances which is why you can see him all over the telly-box.
Gilbert has featured on The World Stands Up, Michael McIntyre's Comedy Roadshow, 8 Out of 10 Cats and Mock The Week. He's also had his own Comedy Store Special and hosted Never Mind The Buzzcocks.
Gilbert's stand-up has taken the UK and the world by storm. The comic regularly gigs around the globe but he still broadcasts his Saturday morning show on Radio Wales wherever he is. Gilbert was also the first Western comedian to perform in Taiwan.
Rhod has also entertained our forces in Iraq, performing in one of Saddam Hussein's former palaces. Ooh er!
His 2008 show Rhod Gilbert and the Award-Winning Mince Pie was the comical result of a mental breakdown brought on by a mince pie in a motorway service station. The show was named Time Out's 'Best Show of the Year' and is now available on DVD. Worth the agony then Rhod!
Rhod's latest show Rhod Gilbert and the cat that looked like Nicholas Lyndhurst is touring now and in 2010 and is titled as such to try and stop an obsessive fan from Kent bringing him presents in reference to his show titles. We're sure he's busy searching for that cat right now...
Gallery

Videos