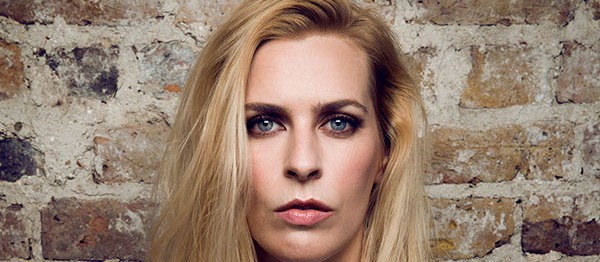 Sara Pascoe
Pascoe has appeared in many television programmes and panel shows, including Stand Up for the Week, The Thick of It, Mock the Week, The Increasingly Poor Decisions of Todd Margaret, Campus, Being Human, Twenty Twelve, QI, Have I Got News For You, Would I Lie to You and W1A as well as all-female sketch show Girl Friday (part of Channel 4's Comedy Showcase), which she co-wrote.[9]
Pascoe began performing stand up comedy in 2007.
In August 2010, she performed her first show at the Edinburgh Festival, Sara Pascoe Vs Her Ego. The show received positive reviews.
On 19 February 2012, she appeared in episode 11 of the Comedian's Comedian Podcast hosted by Stuart Goldsmith. In 2012, she appeared in Live at the Apollo. She appeared on the BBC TV panel show QI in 2013 and won the episode with +28 points.
Pascoe in 2014
In 2014, she performed at the Edinburgh Festival and toured the UK for the first time with the show Sara Pascoe Vs History. The show was nominated for the Foster's Edinburgh Comedy Award 2014 for Best Comedy Show. In October 2014, she appeared in Never Mind the Buzzcocks and stood in line at the identity parade round as a former dancer and back-up singer for the entertainer (and Robbie Williams's father) Pete Conway. Also that month, she appeared on the topical panel quiz Have I Got News for You as a panellist and in one of the sketches of the Channel 4 charity night Stand Up to Cancer.
In 2015, she appeared as a panellist on two Radio 4 programmes, the science discussion programme The Infinite Monkey Cage in February, and the comedy quiz programme The Unbelievable Truth in September.
In 2016, along with numerous other celebrities, Pascoe toured the UK to support Jeremy Corbyn's bid to become prime minister.
Her first book, Animal: The Autobiography of a Female Body, was published in April 2016 by Faber and Faber. In 2016, she went on tour again with the show Animal. She participated in series 3 of the comedy challenge show, Taskmaster, which was broadcast on Dave in October and November 2016.
She has appeared in all three of Frankie Boyle's Autopsy BBC programmes (2014–2016), discussing political issues. In 2017, she starred in his Frankie Boyle's New World Order topical series and also performed a half-hour stand-up set in episode 1 of series 2 of Live from the BBC.
On 27 October 2017, she appeared in an episode of the British travel documentary series Travel Man on Channel 4. In February 2018, she started a BBC Radio 4 series called Modern Monkey.
Pascoe performing at the Up the Creek comedy club in 2018
In April 2018, she appeared as a panellist in two episodes of the BBC Radio 4 panel show Just A Minute, coming fourth in both episodes. In May 2018, she starred in a BBC comedy short entitled "Sara Pascoe vs Monogamy".
In March 2019, she appeared in Travelling Blind with Amar Latif on BBC2.
In April 2019, a live recording of Pascoe's LadsLadsLads tour at the London Palladium was shown on BBC Two.
Her second book, Sex Power Money, was published by Faber & Faber in August 2019. The book explores (mostly heterosexual) sexual relations, with particular focuses on male sexuality and on sex work. It is informed by evolutionary biology and social research, and by her own experiences and feelings. She also hosts a related podcast of the same name, in which she interviews people who have experience around sex work, stripping and porn.
'She is a comic in her prime' The Times
Gallery

Videos