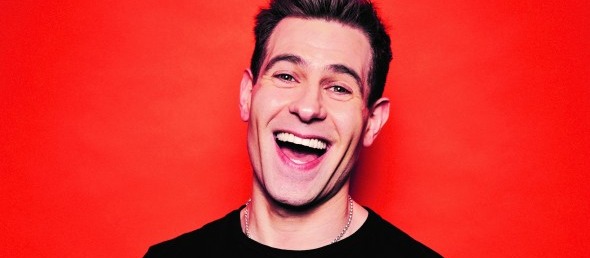 Simon Brodkin
Acclaimed character comedian and "the world's most famous blagger" (The Daily Telegraph), Simon is now performing as himself after his hugely successful debut stand-up show 100% Simon Brodkin premiered at the 2019 Edinburgh Fringe, selling out entire run and adding extra dates. Simon will now be embarking on a nationwide tour in 2020.
Star of Britain's Greatest Hoaxer (Channel 4) Simon hit global headlines multiple times for his high-profile stunts, including handing Theresa May a P45 during her speech at the Conservative Party Conference, showering disgraced FIFA president Sepp Blatter with bank notes, surrounding Donald Trump at the opening of his golf courses with 60 swastika-emblazoned golf balls, attaching a 25-foot sign to the side of Sir Philip Green's super yacht, and going on Britain's Got Talent as the ultra-orthodox Jewish rapper Steven Goldblatt – fooling Simon Cowell and the other judges to win four 'yeses'. Britain's Greatest Hoaxer was nominated for best Documentary at the Monte Carlo TV Festival Golden Nymph Awards 2018.
Simon's most famous character is "comedy legend" (The Sun) Lee Nelson, writing and staring in two series of BBC Three's ratings smash Lee Nelson's Well Good Show and the sketch series Lee Nelson's Well Funny People, which introduced the nation to a plethora of brilliant characters, most notably, overpaid Premier League footballer Jason Bent.
Simon has been on five national tours as Lee Nelson, each of which was extended at least twice. Simon has also taken multiple solo shows to the Edinburgh Fringe, winning the Writer's Guild Best Newcomer Award for his debut show.
Other TV appearances include Live At The Apollo; The John Bishop Show; John Bishop's Christmas Show; Let's Dance for Comic Relief; Absolutely Fabulous; Children In Need (all BBC One); Sunday Night at The Palladium; Al Murray's Multiple Personality; Comedy Rocks (all ITV1); Channel 4's Comedy Gala; Big Brother's Big Mouth (both Channel 4).
"There aren't many better comedians to turn to" The Daily Telegraph
"A prodigious talent" The Times
"The hottest creation since Ali G and Vicky Pollard." The Daily Mirror
"There aren't many better comedians to turn to" The Daily Telegraph The creator and performer of Lee Nelson... back doing his own stuff. It's a very funny beneath that very funny character. Come enjoy!
Gallery

Videos