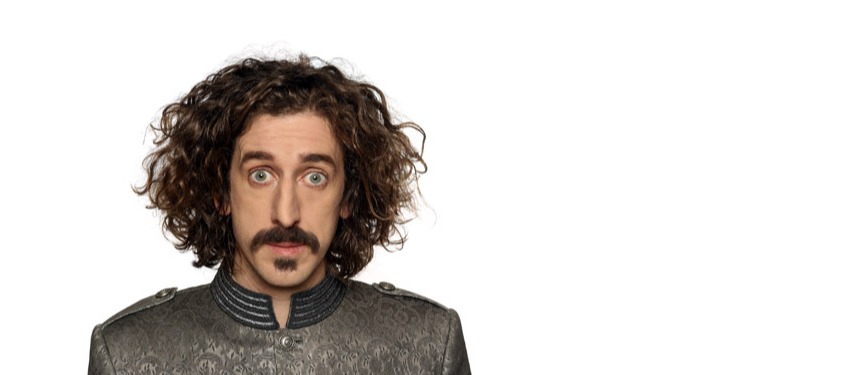 Tom Wrigglesworth
Tom Wrigglesworth is an established stand-up comedian, radio and TV presenter and voice-over artist from Sheffield, England. With a disarmingly charming delivery and unforgettable appearance, this Yorkshire funny man became a national have-a-go-hero when he rescued a little old lady from the jaws of a Virgin train ticket inspector; only to be arrested for begging. His subsequent story of the event secured Tom several awards including the Chortle Best Show Award, and a nomination for the main Edinburgh Comedy Award.
Tom first broke onto the scene back in 2003, winning the Channel 4 new comedian competition, 'So You Think You're Funny'. He is now firmly established as one of the most original, talented and respected comedians on the UK and International comedy circuit. He's enjoyed several nationwide tours with live shows, has written and starred in five self-titled series for Radio 4, and accepted performed at comedy festivals across the globe including the prestigious New Zealand, Sydney and Montreal Comedy Festivals.
A prolific writer, Tom has been a regular at the Edinburgh festival since 2006 when he first debuted performing in a double headline show with Tom Allen, entitled 'Allen and Wrigglesworth', and also compering the 'Big Value show'. In 2007 he returned to perform in the prestigious compilation show 'AAA Stand Up'. In 2008 he presented his eagerly-awaited first full length solo show 'I'm Struggling to See How That's Helping'. Tom's second solo show 'Tom Wrigglesworth's Open Return Letter to Richard Branson' was the one that truly cemented his position as an inspired writer and performer. earning Tom a nomination for the prestigious Edinburgh Comedy Award in 2009. Tom toured the show nationally to before returning to the festival the following year with 'Tom Wrigglesworth's Nightmare Dream Wedding', which also went on to tour the UK. Following a hiatus, on account of his TV and radio commitments, Tom made a welcome return to the festival in 2013 performing once again at the Pleasance with his latest show: 'Tom Wrigglesworth: Utterly at Odds with the Universe'. It was well worth the wait, and Edinburgh audiences were in for a real treat as Tom once more skilfully blended sentiment and humour into one hilarious and poignant show that packed a real emotive punch. Once again proving himself to be a charismatic wordsmith, the show was met with critical acclaim; Tom accepted an invitation to perform the show at the New Zealand Comedy Festival the following year, and then embarked upon a full-scale UK tour.
On TV, Tom presents the recent BBC 4 series Electric Dreams – a show which enabled him to indulge his inner geek, exploring how the technological revolution of the 70`s, 80`s and 90`s has transformed Britain`s homes. The series was well-received and later transferred to BBC 2. He was subsequently invited to co-present BBC 2`s Engineering Giants, revealing the inner workings and hidden secrets of the world`s most enormous machines including a jumbo-jet, North Sea ferry and a gas-rig.
Indulging his love for science, Tom has been a resident expert on three series of the science entertainment show You Have Been Warned, for Discovery Networks. Featuring bizarre and outrageous clips, the show explored the world's top YouTube homemade science stunts and experiments, employing experts to explain the what, how and why of the biology, physics, and chemistry that made the experiments and stunts possible. He has recently been signed for another 10 episodes on spin-off programme Outrageous Acts of Science for the same channel. In a similar vein, Tom is also a team member on Deadly Dilemmas; a ten-part series also for the Discovery Networks; using science to settle some of the most outrageous, bizarre and perplexing dilemmas imaginable.
As a stand-up, Tom has performed on Edinburgh Comedy Fest Live, Russell Howard`s Good News and The Comedy Gala for BBC Three as well as The World Stand`s Up, Edinburgh and Beyond and three series of The Comedy Store – all for Comedy Central.
Tom is now firmly established as a Star of BBC Radio. Following the success of the live show, Tom Wrigglesworth's Open Return Letter to Richard Branson was commissioned for a one-off show, quickly followed by a full Radio 4 series, which transmitted in 2010. In the four-part series Tom Wrigglesworth's Open Letters, Tom once again tackled consumer issues by writing to figure heads or 'captains of industry', and venting spleen over topics such as traffic wardens, estate agents, energy suppliers, and bank managers using real life stories to highlight the grievances people suffer at the hands of consumer stalwarts. The series was met with great critical acclaim, and scooped a prestigious Sony Radio Academy Award. A second series of Open Letters quickly followed, transmitting on Radio 4 in 2011.
Tom has since moved onto write and star in five series of Tom Wrigglesworth's Hang-Ups for Radio 4. In the highly successful and critically acclaimed series, Tom 'phones home to his parents for a weekly check-in, giving listeners a glimpse into his family background and the influences that have shaped his temperament, background and hang-ups. In recognition of its excellence the series was nominated in the Best Radio category at the international Rose D'Or Awards in 2014. Described by The Guardian as "a keenly observed, comical joy", the programme continues to go from strength to strength and the latest series is transmitting on BBC Radio 4 this Autumn. Tom is now busy developing the series for TV and working on other original ideas for radio.
Tom is also a regular host of Radio 4`s Comedy Club, and has also guested on BBC Radio 4's Loose Ends, Newsquiz, The Unbelievable Truth, The Now Show, Act Your Age, It's Your Round, The Infinite Monkey Cage and You & Yours as well as BBC Radio 2's Out To Lunch and Claudia Winkleman's Arts Show. He has had regular guest performances on BBC 6's Jon Richardson show and has co-presented on Richard Bacon's Radio 5 show and The Rhod Gilbert Show on BBC Radio Wales. He was also a regular panellist on BBC Radio Wales comedyseries Jest a Minute, and was a regular contributor to Fanbanta.com; travelling the length and breadth of the country reporting on all things football related for their website and podcasts.
'With such an impressive stage presence, and equally impressive writing, Wrigglesworth's is a name to keep an eye on' - Chortle
Gallery

Videos