Edinburgh Festival 2014

AVAILABLE SPACES FOR 2014 - if you are interested in any of these spaces please text / call Darrell on 07973 421176
WE ARE TAKING APPLICATIONS FOR OUR VENUES SPACES FOR COMEDY, THEATRE, MUSIC, AND CHILDRENS SHOWS FOR 2014
'I had a fantastic time with Just The Tonic this year… I very much hope to bring another show (or maybe even shows!) to the festival next year and would love to be part of the JTT family again. Everyone worked so hard and smiled through the rubbish and knew how to enjoy the good times! Felt very well looked after and supported.' Trudi Stevens (producer of Wilfredo 2012)
Interested in performing with us in 2014?
Use these pages to read about our venues. There is an online application form. If you have any supporting documents, DVDs etc then please send them to 'Just the Tonic, 30 -32 Granby St, Leicester LE1 1DE. Please mark the envelope 'Edinburgh'
What is Just the Tonic?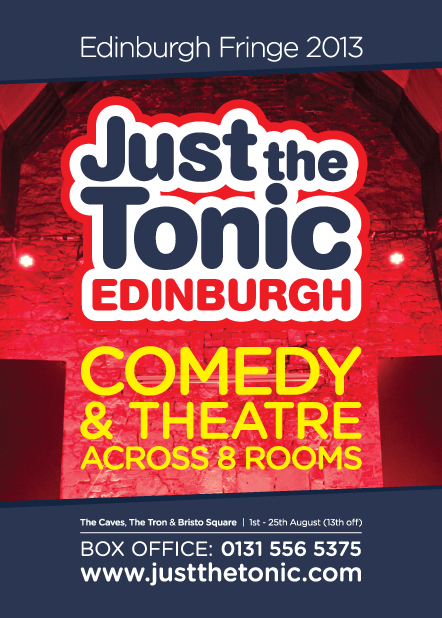 It is a unique entertainment experience during the world's largest arts festival. We have 2 venues, with 7 performance spaces: The Caves, situated within a maze of cavernous rooms below Edinburgh's South Bridge, the venue is a tourist attraction in it's own right. Part of the space that we don't use is even part of the legendary Edinburgh Ghost Tours. Winner of The Best Small Venue in The Scottish Events Awards, 2009. We have now added The Tron, a single perfomrance space on Hunter Square, right next to the Royal Mile.
We are now programming theatre, comedy, music and childrens shows for 2014
A Bit About What We Do
Edinburgh 2012
65 shows a day
The Ginge, Geordie and The Geek sold almost 7000 tickets,
Set List had an amazing run with some high profile names
4 Big Value Comedy Shows,
Rave reviews for our American comedians Eddie Peppitone, Will Franken, BIlly the Mime and The Chris and Paul Show.
Surprise new hits were sketch shows The Silky Pair and Vinegar Knickers
Henning Wehn stayed in London for the Olympics, but had a sell out run when he arrived
Loads happened, we had a whole load of fun. Come join us!
The rest of the time
We have been running Just the Tonic Comedy Club in Nottingham for 19 years, have been taking shows to Edinburgh for 10 years, and in 2012 we created Just the Tonic Comedy Club in Leicester. We book venues, do tours and generally promote stuff. We know what we are doing!
Why Come to Just the Tonic in 2014?
Look at where we are (location, location, location)
As well as providing a professional environment to perform in, Just the Tonic in Edinburgh is small enough to feel that you are part of something, part of the fringe. During the year we run Just the Tonic Comedy Club in Nottingham and Leicester. We know about promoting and producing shows. We are not just here for the festival. A well renowned set up, Just the Tonic at The Caves provides an established venue but you won't get lost in the machine of Edinburgh. Have a look at our spaces, maybe call Darrell for a chat and apply online.
VENUE SEEKS COMEDY, THEATRE, MUSIC AND CHILDRENS SHOW - APPLY HERE

2014 is going to be a hoot and a holla!
APPLY HERE or call Darrell on 07973 421176
Performance Spaces 2014
Have a look through the venue spaces below. We are presently updating the info on each page.
The Caves
Just the Big Room - 150 capacity
Just Up The Road - 120 capacity
Just The Fancy Room - 108 capacity
Just Up The Stairs - 80 capacity
Just The Wee One - 60 seat capacity
Just Out Of The Box - 60 capacity
The Tron
Just Downstairs at The Tron - 75 capacity
APPLY HERE or call Darrell on 07973 421176
Interested in working for us in Edinburgh 2014
We have all sorts of vacancies from ushering, promotional work, tech work. We can also offer work experience to people that may be interested in getting involved with press and media, or would like to gain some experience in production

If you are interested then email us
The Fancy Room