edinburgh festival
NOW TAKING APPLICATIONS FOR 2016
HERE"S WHAT WE HAVE LEFT (last updated 13/04/2016 - 10am)
MORNING
The Wee One - 10.40am
The Fancy Room - 10.25am
Just Up The Stairs - 10.45am
The Spare Room 11.40am - full run
Up The Road - 11.20am (21st - 28th only)
The Big Cave - 11.50am (21st - 28th only)
IF ANY OF THESE ARE OF INTEREST PLEASE TEXT DARRELL ON 07973 421176
If you are interested in any of these time slots, please say which in the show description part of your application
We will also add some marvellous propoganda about why it is that you should perform with us and not one of the other 'not so good' places that you might have heard of.
HERE"S WHERE OUR VENUES ARE: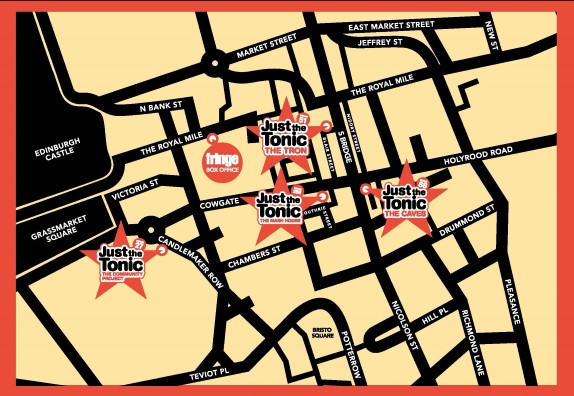 What is Just the Tonic?
It is a unique entertainment experience during the world's largest arts festival. We have 4 venues, with 14 performance spaces: The Caves, situated within a maze of cavernous rooms below Edinburgh's South Bridge, the venue is a tourist attraction in it's own right. Part of the space that we don't use is even part of the legendary Edinburgh Ghost Tours. Winner of The Best Small Venue in The Scottish Events Awards, 2009. We have now added The Tron, a single perfomrance space on Hunter Square, right next to the Royal Mile. In 2014 we took The Community Project on Candlemaker Row with an additional 2 spaces and The Mash House with a further 4 space. All centrally located within the heart of Edinburgh's Old Town.
See this year's brochure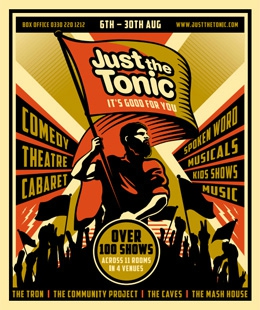 2015 Just The Tonic Edinburgh Fringe Festival brochure