Edinburgh Festival

HELPING OUT THE FREESTIVAL VENUE DEBACLE!
We are opning up 'out the box' and 'up the road' plus a new caves space to help accomodate the homeless shows
If you are one of the shows that has been left a bit stranded by the unusual happenings in Cowgatehead and that other place, then we might be able to help. We have opened up 2 rooms that we weren't using this year (they were being developed but we have a chance to delay that and use them this year.) We are renting them, so we have to pay. We also have to staff it and tech it out. But we are going to do it on a skeleton staff.
The rooms are 60 capacity (Out the Box) and (the new room with no name) plus 80 - 100 capacity (Up the Road)
We need to get a full prgramme of 30 shows per day throughout the run and to to make it possible. We need to charge between £250 and £400 per show. (I am still working it out)
For that money you will get:
1) a venue
2) If we afford it, we will produce a smaller brochure that your show wil lbe included in (probably A4 folded into A5). It will be up to the performers to distribute these.
3) The venue with be teched out, seated and there will be an usher controlling people,
4) You will be part of Just the Tonic and that is fun fun fun!
The only snag is that the place is booked for a private party on one evening, so evening and night time shows might have ot have a night off (we are trying to change this)
IF INTERESTED PLEASE EMAIL darrell@justthetonic.com and put in subject - "HELP.... We've been stuffed'
Please state the time your show is presently programmed at, the room you were in and the room you'd like
We are presently talking to Freestival but I'm doing this in case things go even more wobbly!
Darrell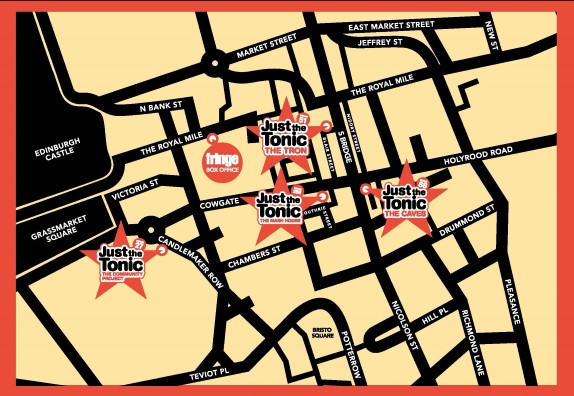 What is Just the Tonic?
It is a unique entertainment experience during the world's largest arts festival. We have 4 venues, with 13 performance spaces: The Caves, situated within a maze of cavernous rooms below Edinburgh's South Bridge, the venue is a tourist attraction in it's own right. Part of the space that we don't use is even part of the legendary Edinburgh Ghost Tours. Winner of The Best Small Venue in The Scottish Events Awards, 2009. We have now added The Tron, a single perfomrance space on Hunter Square, right next to the Royal Mile. In 2014 we took The Community Project on Candlemaker Row with an additional 2 spaces and The Mash House with a further 4 space. All centrally located within the heart of Edinburgh's Old Town.
'It was a pleasure working with Just the Tonic and we hope to be in touch when the 2015 applications open' Nick Davies, Big Brass 2014
A Bit About What We Do
Edinburgh 2014
Last year we had over 120 shows a day, Henning Wehn totally sold out with over 3000 tickets, and one of our children's shows 'Funz and Games' won the Fosters 'The Spirit of the Fringe Award'.
We had theatre shows that won awards and some transfers to The West End, we had a surprise new hit sketch shows like The Colour Ham. Loads happened, we had a whole load of fun. Come join us!
Why Come to Just the Tonic in 2015?
As well as providing a professional environment to perform in, Just the Tonic in Edinburgh is small enough to feel that you are part of something, part of the fringe. During the year we run Just the Tonic Comedy Club in Nottingham and Leicester. We know about promoting and producing shows. We are not just here for the festival. A well renowned set up, Just the Tonic provides established venues but you won't get lost in the machine of Edinburgh. Have a look at our spaces, maybe call Darrell for a chat.
APPLY HERE or call the office on 0115 9100003 / 07973 421176