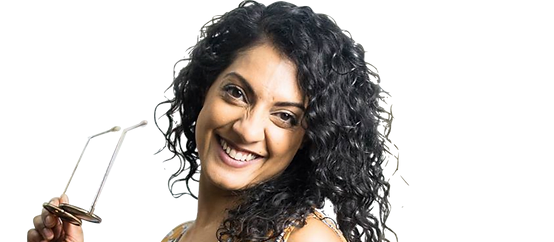 Aliya Kanani
So, how does one find a place of belonging in a place they don't fit in?
Using humour, Aliya learned to adapt and take up space in her ever-changing surroundings. Constantly moving meant she was always the new kid and an easy target... until she learned the best way to handle a bully is to beat them to the punch! By virtue of circumstance, she developed thick skin and a quick wit.

Aliya relocated with her family from one Canadian city to the next, and when they ran out of places to move... they went to Africa! Growing up with this nomadic rhythm contributed to her taste for movement and adventure. Embracing her vagabond lifestyle, naturally she went on to become a flight attendant!
​
Visiting over 30 countries, Aliya learned life by immersing herself in different cultures, meeting teachers through the people she encountered. Her curious nature meant she sometimes got herself into trouble, but somehow always talked her way out... usually by making people laugh... sometimes without even speaking their language!

After all her roaming, Aliya still can't figure out how to answer the one question she's asked every place she's ever been: "Where you from?"
​
"While her "otherness" is the central theme of the conversation in Where You From, From?, the heart of Kanani's show is in forming a "togetherness" with the room and her audience... ensuring the audience always has plenty to laugh at and plenty to bond over."
- My Melbourne Arts
​
"Aliya was exuberant and… well… funny. An important part of the show and something not to overlook is the improvisation of audience participation, an excellent display of Aliya's capacity to think quickly on her feet, proving her capacity to talk herself out of any situation… leaving us smiling as she does so."
- Pationpics
"By the end you feel like you could easily watch another hour of her �" display her comical wisdom. "​ -Fourth Wall Media
Gallery

Videos