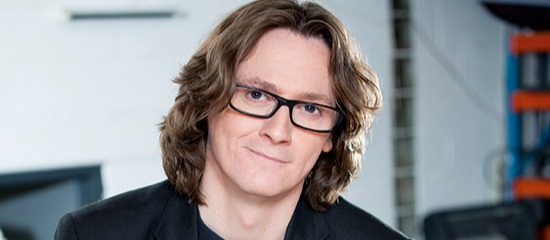 Ed Byrne
"Comedy's holy grail.... Go see!" ✭✭✭✭ The Sunday Times
"Byrne is at the top of his game" ✭✭✭✭ The Sunday Telegraph
"Jokes come so fast that hecklers don't have a chance to get a word in edgeways" ✭✭✭✭ The Times
"It is rare for a comic to merit the word "masterful" but in this case it is no overstatement" ✭✭✭✭ The Scotsman
Ed Byrne has become a household name from his numerous BBC TV appearances including , The Pilgrimage, Top Gear, QI, Dara & Ed's Road To Mandalay, Dara & Ed's Big Adventure, Mock The Week, Graham Norton Show, Have I Got News For You, Live At The Apollo presenting stints on Comic Relief Bake Off. TV career aside, his live work has built up legions of fans both in the UK and abroad. Ed Byrne remains the observational stand up to see and his live work is not to be missed
As an observational live stand up comedian Ed Byrne is unrivalled.
Ed's television career is now in its 3rd decade! He has consistently made television appearances since his first break on Jonathan Ross's Big, Big Talent Show (ITV, 1995). Appearances such as The Royal Variety Show (ITV) followed. The BBC's Stand Up Show was the platform which really grew his television audience. He performed on Series 2-4 (last series) and ended up being given the Extended set slot, establishing him as one of the best stand ups out there. That's a status which just hasn't diminished! He is known for consistently coming out with hit after hit show!
Ed has a passion for the Outdoors (Hill Walking and Mountaineering are major hobbies) and is delighted to have broken into Factual broadcasting: BBC Two's Volcano Live (VT presenting); Dangerous Roads where he spent 2 weeks driving through Siberia!; A Snowdonia abseiling item for The One Show; Dara & Ed's Big Adventure which covered Mexico to Panama City; Into The Wild with Gordon Buchanan (BBC) and climbing in Skye for BBC 1's Countryfile and The Pilgrimage which was a Religion & Ethics Commission where Ed and some fellow participants walked and talked re their own individual faith (or lack of it) over a substantial part of the Camino to Santiago de Compostela in Galicia, Spain.. Dara & Ed's Road To Mandalay has recently been re-transmitted on BBC Two.
Ed can be heard as Hillman Hunter in The Hitchhikers Guide To The Galaxy (Perfectly Normal Prods for BBCR4, Dir: Dirk Maggs) and seen as a contestant on BBC One's Celebrity Best Home Cook Currently on iplayer.
Ed Byrne Additional Info:
To date his films include: RAT (Universal Films (UK)) produced by Alison Owen (Ruby Films) where he played the supporting role of Rudolph; a cameo in I Could Never Be Your Woman (Universal); a co-lead role in Are You Ready For Love (Carnaby Films), a cameo role in 'Don't Let Me Die With That Look' (prod/writer Chris Purnell) and the lead role in Zemanovaload (writer/Dir: Jason Rothwell). In this dramatic role Ed portrays his character, a screenwriter with obsessive tendencies with great sympathy.
Other acting work has included: Father Ted Christmas Special as a 'grungy teenager', the ITV/LWT Christmas Day Panto, Aladdin where he played Aladdin opposite Patsy Kensit. He was co-lead as Davina McColl's flatmate 'Alex' in the ITV sitcom, Sam's Game. Following this he played the lead role of Barry Cassidy for RTE's The Cassidy's (6 part sitcom). He has also featured in BBC's Doctors as Mickey Moran a wheeling, dealing ducker and diver. Ed more recently had a co-lead role in the new Mike Bullen (writer) and Simon Delaney (Dir) (both 'Cold Feet'/ITV) comedy drama TX pilot, Reunited for the BBC. Recently for BBCR4 (Perfectly Normal Productions), Ed performed as Hillman Hunter in Hitchhikers Guide To The Galaxy (Hexagonal Phase), and as Dan Milligan in Puckoon (Perfectly Normal for BBCR4).
Ed's theatre work has included the lead role in Brian McAvera's 'Kings Of The Road' which played Edinburgh Festival ( 2004) then Dublin's Ambassador's Theatre (3 week run), Greenwich Festival and Winchester Theatre Royal.
His Radio work has been extensive over the years ranging from Edinburgh Festival residencies at Forth FM in his early days to his Saturday morning London Live show, to Hosting BBCR4 Xtra's What's So Funny? (Unique Broadcasting) Hosting the BBC Radio comedy panel series called Britain Vs The Rest Of The World (BBCR4, 2015). Ed Hosted the BBCR5 Christmas Morning show Christmas 2017.
Internationally Ed has performed in Montreal (Just For Laughs live work plus Hosting various TV Galas), Canada (JFL tours), Ireland, France, Singapore, USA, Australia, Norway, Belgium and New Zealand (where he has also Hosted TV Galas for the NZ Comedy Festival). In the USA Ed has performed at US Comedy Arts Festival (Aspen), plus top comedy clubs in New York and LA and has made 5 appearances on Late Night With Conan O'Brien (NBC).
On top of all of this Ed performs stand up at a huge amount of corporate events (hosting awards show or after dinner stand up) and was well known as the voice of The Carphone Warehouse on both their radio and TV commercials for many years (2001-2008).
Ed 's last 6 tours 'Different Class', 'Crowd Pleaser', 'Roaring Forties', 'Outside Looking In', Spoiler Alert and If l'm Honest have enjoyed storming Edinburgh and tour sell outs. Different Class also ran for 3 weeks at The Vaudeville Theatre, Strand. DVDs and CDs are available on Play UK and Amazon.
Ed will be picking up on touring his hit Edinburgh 20-19 show, Ed Byrne: If I'm Honest from September 2021-2022.
'He'll make you smile, he'll make laugh, he'll make you want to fall in love with him' The Stage
Gallery

Videos