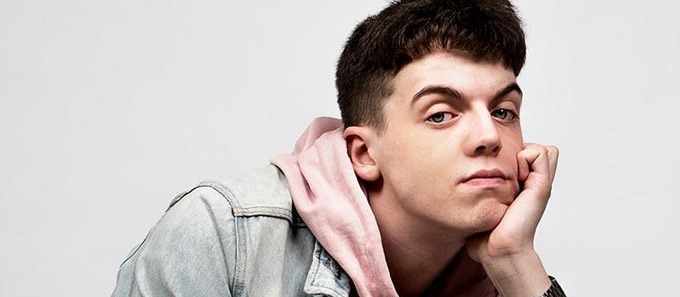 Ed Night
Ed is a prodigious talent and one the youngest stars of the UK comedy circuit. In 2017 he was nominated for the Edinburgh Comedy Awards' Best Newcomer. In 2018 and 2019 he sold out his entire Edinburgh run and then went on to host Radio1's 'Ed and Lauren' show. Ed has also been seen on E4 and BBC3 and heard on BBC Radio 4 and BBC 5 Live. He is currently performing across the UK and Europe.
"Delivered a show so bleakly funny on the lack of future prospects for his generation that you felt winded"
The Guardian
"There can't be many young comics talking about big ideas with such eloquence"
★★★★★
Entertainment Focus
"Ed Night stands out from them all"
★★★★★
Radio Ha-Ha
"His stand-up is some of the cleverest, funniest and most unassuming comedy I've encountered... immediately likeable... he ends the show by asking us to all go and kill ourselves"
★★★★★
A Younger Theatre
"As far as comedy goes, he's pretty much cracked it already"
★★★★
The Scotsman
"Bold, fearless, full of moral certitude, and crucially, funny... Night is a prodigiously talented young comic... the kind of comic that you need to come along every now and then, someone who makes an enemy of complacency... there's some cracking material on rimming, too"
★★★★
Chortle
"Spell-bindingly funny"
★★★★
The Herald
"Ed Night has a natural talent for comedy"
★★★★
Edinburgh Festivals Magazine
"Blisteringly quick fire and jam-packed with jokes"
★★★★
Broadway Baby
"Ed Night stands at the dawn of the new age of stand up... has no right to be as good as he is"
★★★★
Fest
★★★★
The Times
★★★★
Herald Sun
★★★★
Three Weeks
"By the end of his refreshingly different show, you are left with a sneaking suspicion that you may have seen one of the future stars of British comedy"
iNews
🏆 The Scotsman Critics Pick of the Fringe 2019 🏆
🏆 The Times Pick of the Fringe 2019 🏆
🏆 Edinburgh Fringe Sell Out Run 2018 🏆
🏆 Edinburgh Comedy Award Best Newcomer Nominee 2017 🏆
🏆 Leicester Mercury Comedian of the Year Nominee 2017 🏆
🏆 3rd Place, So You Think You're Funny? 2015 🏆
"Bold, fearless, full of moral certitude, and crucially, funny... Night is a prodigiously talented young comic... the kind of comic that you need to come along every now and then, someone who makes an enemy of complacency... there's some cracking material on rimming, too" ★★★★ Chortle
Gallery

Videos