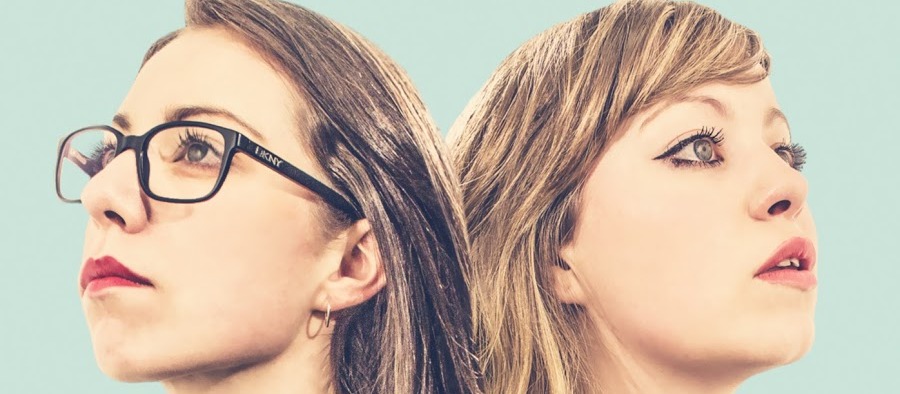 Flo and Joan
Flo & Joan are the British musical comedy duo, and sisters, Nicola and Rosie Dempsey.
The piano/percussion pair have headlined and played to sold-out audiences across North America and the UK including Montreal Sketchfest (Best of the Fest Selection 2017), Toronto Sketch Comedy Festival (Now Magazine Audience Choice Award and Best of the Fest Selection 2017) SheDot, Reading and Latitude Festival.
They had a viral hit with their 2016 Song, which to date has received 46 million views across social media. They have appeared on Canadian TV comedy programme This Hour Has 22 Minutes and on BBC Radio 4's Fresh From the Fringe, as well as recording four songs for CBC Digital in Canada.
They took their debut show Victory Flaps to the Edinburgh Fringe Festival 2016 for a limited run, where it was announced as one of the Top 10 shows at the Fringe in the Amused Moose Comedy Awards. The show has since been released as an album available on Spotify and iTunes.
They returned to the Edinburgh Fringe Festival 2017 for a full run of their new show The Kindness of Stranglers which sold out in advance and received a raft of positive reviews.
Independently, Nicola and Rosie trained in sketch and improv with the iO, Second City and Bad Dog Comedy Theatres in Chicago and Toronto, where Nicola was a musical director at the Second City Toronto's Training Centre and Rosie was a member of their inaugural House Company. They have contributed material to BBC Radio 4Xtra's Newsjack, been featured on Funny or Die, Comedy Central and the AV Club, and appeared in the JFL Eat My Shorts Finalist and Canadian Comedy Award Nominated short, Got Your Nose (Trophy Husbands).
Follow Flo & Joan on Twitter: @floandjoan
Like Flo & Joan on Facebook: facebook.com/floandjoan
"These intricately crafted, flawlessly performed numbers will have you howling with laughter one minute, wiping away a tear the next."
★★★★ The Telegraph
"If Flanders & Swann and Flight of the Conchords and Garfunkel & Oates had a six-way time-travelling gang-bang that somehow mixed all their DNA, the offspring might end up sounding something like Flo and Joan."
Steve Bennett, Chortle
"Endlessly charming, catchy, and bloody brilliant."
Stylist
"Incinerating, sing-song despair…gallivanting show-tune piano."
The AV Club
Gallery

Videos