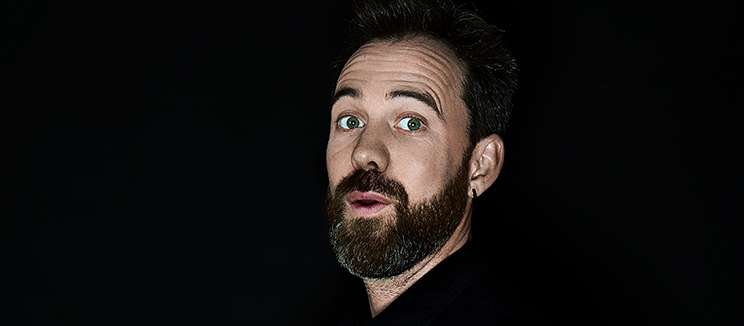 Ro Campbell
You may remember Ro Campbell from his role as Darryl the nasty bully who beat up a deaf boy and stole his hearing aid in 1988 Emmy award winning film Captain Johnno, but its highly unlikely.
Following a brief spurt of child acting breaks in the 80's Ro forgot all of his lines in a high school play and vowed never to set foot onstage ever again .
His late teens and 20's were spent traveling Australia and the world doing a litany of jobs including cook, fisherman, sheep shearer and Golf Sale sign holder, before spending a number of years as a stagehand/roadie working behind the scenes with some of the biggest names in sports and entertainment. He was almost fired for running across the stage at a KISS concert in a G String and a Bra.
In 2004 Ro found work rigging venues at the Edinburgh Fringe and for the first time found himself immersed in the world of stand up comedy. Something clicked and after a 12 year hiatus he decided to get back onstage, but this time as himself.
Since then the UK based Aussie has carved a reputation as one of the hardest working comedians on the International Circuit, creating waves of laughter in over 40 countries with his relentlessly entertaining brand of cheeky slightly dark humour.
Ro has headlined every major comedy club in South East Asia and in 2019 was invited to be part of Magners Comedy Festival Asia.
He has also performed solo shows at the last 12 Edinburgh Fringe festival's and has made The Scotsman's pick of Best Jokes of The Fringe. In 2010 he was crowned Scottish Comedian Of The Year (slighty controversial being Australian and all).
He has written for British TV and Radio, featured regularly on BBC Radio in topical panel shows, history shows and live stand up recordings and has made numerous solo show appearances at Glasgow International Comedy Festival, NZ Comedy Festival, Adelaide Fringe, Perth Fringeworld, Melbourne International Comedy Festival and performed extensively on the club circuit in the UK, Europe, the Middle East, South East Asia and Australia.
Ro supported Live At The Apollo Star Tom Stade on his 2011, 2013, 2015 and 2017 UK Theatre tours and highly acclaimed Edinburgh Award winner Russell Kane on a number of his 2010/2011 tour dates. He recently opened for Kevin Bridges in Australia and has regularly appeared at Kevin Bridges and Friends live at The Stand Comedy Club in Glasgow.
"Effortlessly brilliant" The List
Gallery

Videos