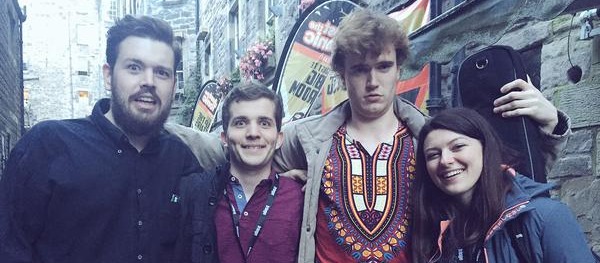 UCL Graters
Graters was conceived on a whim in summer 2011, when the Cheese Grater Magazine Society applied for a week in the UCLU Garage Theatre Workshop without anything performable on paper, or even in mind. After toying with the idea of a pantomime, or more formal comic play, Graters chose the sketch show format to open input up to a greater number of society members. Our approach has been to draw honest performances from experienced UCLU Drama Society actors, hopefully allowing the writing to speak for itself. Our aim is to expose and engage, rather than simply jest.
We wrote and performed shows at UCL Jokers and the Garage Theatre Workshop, the latter winning Best Garage Theatre Production at the UCLU Arts Awards. We wanted the opportunity to test our material in Edinburgh and aided by a generous grant from UCL Friends' Trust we successfully applied to have our show at Underbelly, one of the Fringe's leading comedy venues.
After a few missed trains and quite a few hours spent crammed onto a Megabus, the cast and crew of the Graters' debut Fringe show, "Julian ignores his friend and talks to a pretty girl," finally arrived in Edinburgh. Having a morning show meant waking up brutally early, fighting for a shower (ten people, one bathroom), flyering until we lost our voices, and then trying to see as many other shows as we could. "Julian" made a small profit and got mixed reactions, ranging from a gushing five star review to one woman who asked, "Is it over yet?"
We returned to Edinburgh in August 2013, where one audience member told us it was not only the best show he'd seen at the fringe, but the best show he's ever seen. We think he needs to see more shows.
Gallery
Videos