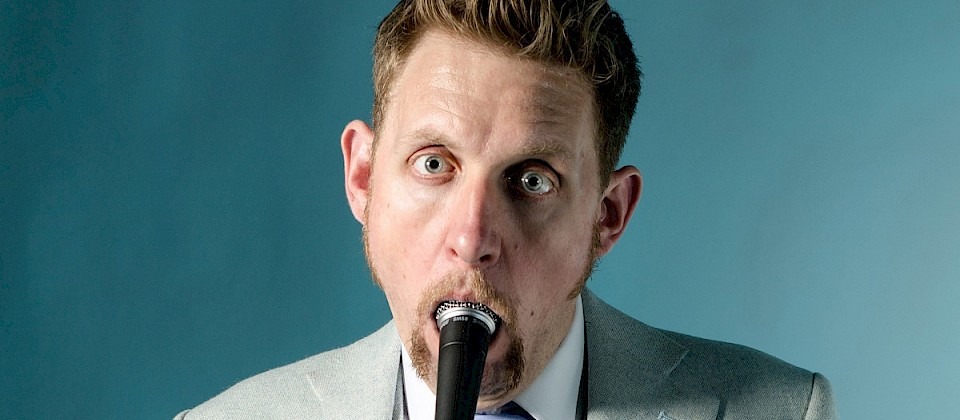 Howard Read
Howard Read is an award-winning writer, animator, song-writer and comedy performer. Howard Read has written and illustrated two children's books and toured his unique theatre shows all over the country and all over the world, effortlessly flitting between adult, family and corporate audiences, and almost never saying the wrong word at any of them.
Howard Read started out as a stand-up comic after leaving university in 1996. Howard Read soon established himself one of the circuit's most original voices mixing left-field rambling with bombastic comic songs. His epic, and frankly revolting Mrs Grimshaw show-stopper won him a Fringe Choice Award and got a rapturous response on Spanking New (Radio 7).
Once established as a comedy circuit regular Howard Read started dabbling with animation. In 2001 his comic animated short Polar Bears In A Snowstorm won a BBC New Comedy Award For Animation.
2002 saw the arrival of Howard's best-known character, Little Howard. Created as an experiment for his debut Edinburgh Fringe show Words and Pictures in 2002 Little Howard was an instant success, selling out, garnering five-star reviews and winning them a development deal with Tiger Aspect Productions.
Their second show, The Big Howard Little Howard Show was the only British nomination for the 2003 Perrier Award and was snapped up by comedy festivals in New York, Aspen and Melbourne. They appeared on The Tonight Show With Jay Leno in the US and the Melbourne International Comedy Festival Gala in Australia.
Family entertainment seemed to be beckoning and in 2006 Howard Read experimented with adapting his The Big Howard Little Howard Show for a family theatre audience, and it was an instant hit on tour. So he created Little Howard And The Magic Pencil Of Life And Death for the 2007 Edinburgh Fringe. By the end of the year HOWARD READ was in talks with CBBC about making a series for them, and was asked to perform on The Royal Variety Performance, alongside Bon Jovi, Enrique Iglesias, Russell Brand, Joan Rivers and Al Murray.
2008 saw Big Howard and Little Howard's first appearance live on the sofa of ITV's flagship daytime show This Morning. They also toured Magic Pencil, and and took it to The Melbourne International Comedy Festival, and the New Zealand International Comedy Festival where they repeated the sofa-appearing trick on New Zealand's top current affairs show Campbell Live and STV's flagship magazine program The Hour.
2009 saw the broadcast of the first series of Little Howard's Big Question for CBBC on BBC1, BBC2 and the CBBC Channel. Howard created it, co-wrote it with Chris Chantler, acted in it and headed up the animation team. Howard Read got rave reviews and quickly got commissioned for two more series back-to-back. These, broadcast in 2010 and 2011 were called "One of the best kid's shows on television" by The Scotsman, "incredibly, achingly funny" by The Mail, "Witty, clever, at times breathakingly funny" by The Times, and was called "Genius" rarely missed being featured as Children's Choice in Radio Times. The show featured guest appearances by Barney Harwood, Sian Lloyd, Tim Brooke-Taylor (twice) and Marek Larwood. The end of 2011 saw Big Question's "Why Do Things Have To Die?" Episode win the Best Children's TV Script at the Writer's Guild Awards.
While all this was happening Big Howard and Little Howard created a brand new theatre piece Little Howard's Big Show, made a second appearance on This Morning (possibly inducing labour in Holly Willoughby) and with Chris Chantler wrote and illustrated Little Howard's Big Book (Friday Project/Harper Collins), and released Wait Kate! It's Not Too Late! a download single trying to convince Kate Middleton to marry him instead of Prince Philip.
Howard Read is currently touring Little Howard's Big Show around the theatres of Britain, gigging as a stand-up, writing comic songs and developing various TV and radio ideas. These include Little Howard projects and a potential animated series with the producers of the CBBC's smash-hit Horrible Histories. Howard Read is writing for the new CBBC sketch show Fit.
Award Winning Comedian and animator
Gallery

Videos